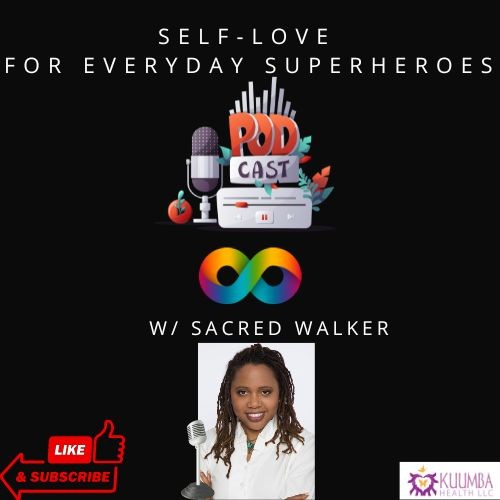 Have you always wished for tools to create daily mindset shifts that actually last, and honor your wellbeing? Do you want to design a life you love, where you put your self care and self love first as a highly creative or heart centered Executive leader? Together we support and celebrate "Self Love for Everyday Superheroes.". I your host, Sacred Walker, am here to help 1 million Ambitious Leaders & Everyday Superheroes to deepen self-love, reclaim authentic freedom, achieve mental clarity and better health, & manifest their vision of excellence - in order to 1 by 1 transform cultures across America, break generational curses, and heal forward - for a leveled-up legacy (without the naysayers in the world or critic in my own damn mind blocking my shine). Are you ready to unlock the unstoppable self-love in you? This is the podcast for you! I come- seeking to show up more for myself as an act of self-love, see my life as a calling from a higher source, and re-write my next chapter of life- one that found the Goddess in myself, after a trial or two- and learn to love her fiercely by increasing invested value in pathways to wellbeing, quality time with family, and high-value in self-care- And You Can Too! Self-Love Radio is dedicated to the efforts of Everyday Superheroes who we are reclaiming their voice and authentic selves, who are choosing to slay in soulful and creative ways every day. Ready to Unlock doors to designing a life you love? Join in on lively Conversations with yours truly (Sacred Walker), alongside conversations with influencers and experts, diverse culture-advocates, ceiling breakers, and more than a few shape-shifters working to Shift ancestral patterns from habits that harm to habits that help, who are innovating, creating, and daring to unlock unstoppable love thru clarity, and confidence-building resources in big and small ways daily come together to unlock unstoppable love by fostering DIY self-help talks about wellbeing, creating extra streams of income and wealth mindset, transforming imposter syndrome personally and professionally, loving the skin we are in, releasing toxicity from your life so you can achieve a life you love where your worth is seen and valued (with a little less weighing you down vs helping you fly) & more! Conversations will help you create daily mindset shifts, wellbeing, mental/mind-body-soul health, wealth, creative entrepreneurial habits so you can slay and so that we can all become the love medicine the world needs- to our own ailing corner of a world, aching to be healed- for your own personal dose of emotional and financial freedom for a lasting legacy.
Episodes
Tuesday Dec 20, 2022
Tuesday Dec 20, 2022
Today's Topic: 3 Powerful Tips for supervising people, during the busy season of the holidays, without imposter syndrome getting in the way!
with Special Guest Kami Guildner, Founder of the Extraordinaire Women Podcast and Conference!

Details
It's the end of the year and you are putting your best foot forward to close out quarter four (4) with excellence. When you show up as that leader, manager, or executive you can continue to shine while you're helping others to do the same; and as many of us know in today's economy where there are things like quiet quitting, where people are slowly easing their way out, etc. sometimes it can be hard to find good people or if you find good people really making sure that they're invested in your vision can present a challenge. We here are here to support you to remain unstoppable.
Here at the self love for everyday superheroes academy show, we are committed to supporting visionaries, high level leaders, and just your everyday superheroes to transform barriers to their health well-being, so that they can level up.
Today's conversation is so pivotal, because supervising can be both joyful and stressful, depending on the tools and coach in your corner.
We have business coach and powerhouse of a woman Kami Guildner, who's come to be in conversation with us today to really look at how do we make sure that when we supervise others or lead teams, we do that without imposter syndrome getting in the way.
Wherever it is that you're coming into this conversation you are on here on purpose for a purpose, and so today we're going to do a deep dive into this conversation with this powerhouse of a business coach who has started an initiative called "Extraordinary women."
Many of us are Visionaries, entrepreneurs,  and just your everyday superheroes are often times supervising, or leading groups, or managing or supervising individuals. How can we show up confidently?
We're going to be dropping some gem droppers in today's episode!
This week we are aiming on helping high-level leaders break through barriers to well-being, supporting you towards your journey of healing to unlock unstoppable love in you whether you are deepening self-love claiming authentic freedom or really lining up with mental clarity so you can manifest your vision
Hear from Kami in conversation with yours truly today!
What will you learn today:
How to develop and maintain a regular routine that sticks in three (3) powerful steps

How Kami learned to deepen the trust of the wisdom inside of her, and how that catapulted her professional growth- and you can too!

How to find the best community for your growth and development.
How to be a confident supervisor that leads with a clear vision, that people get excited about when they hear it

Best practices for tuning into your intuition and really bringing in the power of the divine feminine to grow your business, grow your career, and being able to manage people or groups (without imposter syndrome getting in the way).
As high level leaders and every superheroes, whether you are a team of 1 with a vision, or have a large global team, this is such an important topic that I've heard again and again in our masterminds and coaching sessions of struggling with supervising people. One of the toughest jobs can be managing one or large teams and here being that we've been in power and in leadership development for over a decade we want to make sure that you have the skills that you deserve to level up as we enter into 2023!
So excited for you to join this episode And subscribe below if you haven't already see you there!
FEATURED ON THE SHOW
Don't forget to subscribe + give a glowing review!